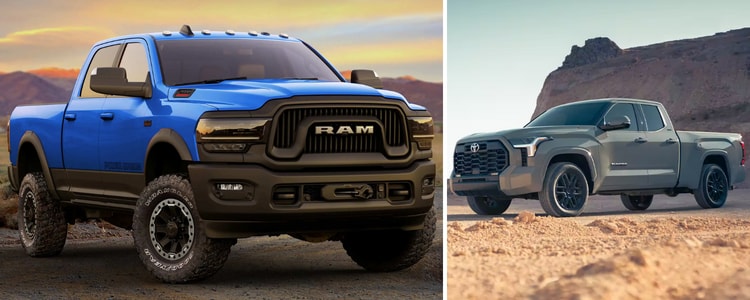 When you buy a truck, you need to be sure the truck you choose can get the job done, no matter what you need it for. In today's day and age, there's a wide variety of options to choose from when it comes to dependable trucks, but how can you be sure you're getting the best one for you? At Dave Smith Motors, we make it easy to browse and compare the different models that we carry in our extensive inventory. More than that, keep reading for a comparison between the Ram 2500 and the Toyota Tundra, two trucks with their own qualities, but only one can be the best.
Shop RAM 2500
Head-to-Head in Horsepower: Ram 2500 vs Toyota Tundra in Idaho
One of the first things many drivers will look to as a sign of a truck's potential performance is its horsepower. This is a measure of how much power an engine can really produce when it's put to the test. The Toyota Tundra can put out a respectable 348 horsepower from its standard engine, with a choice of a 389 horsepower V6 engine. The Ram 2500, however, clearly comes out on top with a 410 horsepower, eight-cylinder engine. These might seem close, but always consider that with your truck, every little bit of performance you can get out of your engine can count.
Towing Capacity Between the Ram 2500 and Toyota Tundra in Idaho
If you're thinking of hauling something to or from a worksite, towing a trailer behind your truck, or packing away camping and hunting gear, it's important to have a good sense of your truck's towing and storage capacity. The Ram 2500 and Toyota Tundra have options for similar truck bed sizes, as far as the actual dimensions of their storage area are concerned. However, where they diverge significantly is in their actual towing capacity. The Ram 2500 can tow up to 15,000 pounds, while the Tundra falls behind at 12,000. If you need to be sure that your truck can handle any job, between these two trucks, the Ram 2500 clearly pulls ahead.
Browse Available Ram 2500 Models in Idaho
On the market for a new Ram 2500 truck? Dave Smith Motors is your best source of new Ram trucks of any kind in Idaho! Through our website, you can easily browse our inventory of currently available Ram 2500 trucks of all trim levels. The Big Horn, for example, offers all the same capabilities of the basic trim with extra style and comfort on the inside. The Ram 2500 Laramie offers a significant upgrade, with 18" wheels and the choice of a power outlet in the bed for tool use on the go. Need a truck that's particularly off-road capable? The Ram 2500 Rebel is the truck for you, with a suspension and drive train specially tuned for additional stability across any terrain. Contact our sales team for more information about our inventory!