Quality Automotive Parts for All Vehicles
Dave Smith Motors proudly sells the
Magneti Marelli Offered by Mopar
 automotive parts line. Magneti Marelli offers over 30 product lines of maintenance and repair parts for all vehicle makes and models, including Chrysler, Dodge, Chevy, Ford, Honda, Toyota, Nissan, Kia and others.
Magneti Marelli has been manufacturing O.E. and aftermarket components since 1919. Magneti Mareli has partnered with Mopar to offer maintenance and repair parts for all vehicle makes and models. Dave Smith Motors offers over 30 product lines filled with high quality, easy-to-install parts that are backed by Mopar and an exceptional warranty. Call us today to learn about our one-stop online shopping to repair your vehicle, or every vehicle in your shop. 
 

Like to work on your own car? 

 

Are you a mechanic? 
---
---
Have a question about Auto Parts?
Call 1-888-212-0241 to speak with our Parts Experts.
---

Dave Smith has over 30 product lines of automotive parts including Original Equipment (OE) parts. Some of the parts you can get from Dave Smith Motors include: Oil Filters, Air Filters, Cabin Air Filters, Transmission Filters, Fuel Filters, Brake Rotors & Drums, Brake Shoes, Brake Pad Kits, Spark Plugs, Ignition Coils, Oxygen Sensors, Engine Systems/Chassis,Tie Rods, Ball Joints, Fuel Pumps, Suspension, Shocks,  Struts, Window Motors, Starters, Alternators, Water Pumps, Timing Belts, Catalytic Converters, Wheel Bearings, Hubs and more.
Make an Inquiry
---
Have a Question? Call 
1-800-635-8000 
to speak with our Parts Experts.
---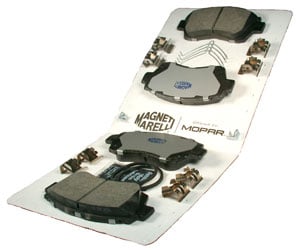 "
Magneti Marelli all-makes brake pad kits
sold by Mopar are the right choice for dealerships, independent repair shops and DYIers, the company said. They come complete with all the hardware for easier installation, less vehicle downtime and reduced possibility of premature wear-out. The high quality friction materials used allow for
ultra-quiet braking
and the elimination of brake dust. Available in semi-metallic and ceramic formulas, these brakes provide excellent stopping power and
superior braking performance
, Mopar said, adding this means less squeaky brakes and less customer complaints. "
Part Review from Tire Review 3/12/2014, the Tire Industry's #1 Source for News and Analysis.
Call Dave Smith for Magneti Marelli Brake Pad Kits and other parts. 
1-888-212-0241