Whether you enjoy working on your own vehicle or are a mechanic looking to restock your inventory, it's important to choose high-quality parts. That's why Dave Smith Motors carries a wide selection of OEM and aftermarket parts for Ram, Jeep, Dodge, and Chrysler vehicles. Read more about aftermarket vs. OEM parts and place your order today!
Aftermarket vs. OEM Parts Availability
When you're looking for replacement parts for your vehicle, it matters where you order them from and there's a difference between choosing OEM parts and aftermarket parts. OEM stands for Original Equipment Manufacturer. That means the parts are made by the same manufacturer that creates the vehicle, so your parts are guaranteed to fit and function perfectly. Aftermarket parts are more of a one-part-fits-most type of solution. They can be cheaper than genuine OEM parts, but you don't get the same assurance of having parts that are manufactured specifically for your vehicle. Dave Smith Motors carries both aftermarket and OEM parts so you can pick the option that works best for your needs and budget.
Genuine Ram Auto Parts from Dave Smith Motors in Idaho
Whether you need replacement parts for routine maintenance or are looking to upgrade your Ram truck, Dave Smith Motors has the parts and accessories you need. Our friendly, knowledgeable experts can help you decide which options fit your needs best so there's no second-guessing. 
Genuine Jeep Auto Parts from Dave Smith Motors in Idaho
As the world's largest Jeep dealer, we also carry genuine, high-quality parts for your Wrangler, Grand Cherokee, Gladiator, and everything in between. We'll help you keep your Jeep running smoothly, whether you prefer cross-country road trips or off-road adventures. 
Mopar Parts from Dave Smith Motors
MOPAR is the official parts and service division of the Chrysler Group. Dave Smith Motors is one of the first dealerships in the country to establish a Mopar shop where you can purchase parts for your Chrysler, Dodge, Jeep, and Ram vehicles. These parts are designed to meet the exact specifications of your vehicle, giving you the peace of mind you deserve. We also carry aftermarket items exclusive to Dave Smith Motors and Dave Smith Motorsports, Inc., including Turbo Liner and Pro Performance. We've got your covered!
Order Auto Parts from Dave Smith Motors in Kellogg, ID
When you're ready to order, simply check out our website. The process is quick and easy when you order through our website. If you're looking to work on your own vehicle, click on Retail Parts to order from our inventory. If you're a mechanic, click on Wholesale Parts to check out our wholesale partner program. We've got an impressive catalog of options like brake pad kits, spark plugs, fuel pumps, a variety of filters, tires, and more. We've got what you need. If you need help deciding or have any questions, give us a call to talk to our experts. Order your OEM or aftermarket parts from Dave Smith Motors in Kellogg, ID today!
 

Like to work on your own car? 

 

Are you a mechanic? 
---
---
Have a question about Auto Parts?
Call 1-888-212-0241 to speak with our Parts Experts.
---

Dave Smith has over 30 product lines of automotive parts including Original Equipment (OE) parts. Some of the parts you can get from Dave Smith Motors include: Oil Filters, Air Filters, Cabin Air Filters, Transmission Filters, Fuel Filters, Brake Rotors & Drums, Brake Shoes, Brake Pad Kits, Spark Plugs, Ignition Coils, Oxygen Sensors, Engine Systems/Chassis,Tie Rods, Ball Joints, Fuel Pumps, Suspension, Shocks,  Struts, Window Motors, Starters, Alternators, Water Pumps, Timing Belts, Catalytic Converters, Wheel Bearings, Hubs and more.
Make an Inquiry
* Indicates a required field
---
Have a Question? Call 
1-800-635-8000 
to speak with our Parts Experts.
---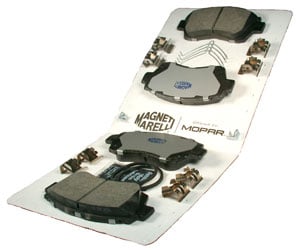 "
Magneti Marelli all-makes brake pad kits
sold by Mopar are the right choice for dealerships, independent repair shops and DYIers, the company said. They come complete with all the hardware for easier installation, less vehicle downtime and reduced possibility of premature wear-out. The high quality friction materials used allow for
ultra-quiet braking
and the elimination of brake dust. Available in semi-metallic and ceramic formulas, these brakes provide excellent stopping power and
superior braking performance
, Mopar said, adding this means less squeaky brakes and less customer complaints. "
Part Review from Tire Review 3/12/2014, the Tire Industry's #1 Source for News and Analysis.
Call Dave Smith for Magneti Marelli Brake Pad Kits and other parts. 
1-888-212-0241