Make an Inquiry
---
Have a Question? Call 
1-800-635-8000 
to speak with our Parts Experts.
---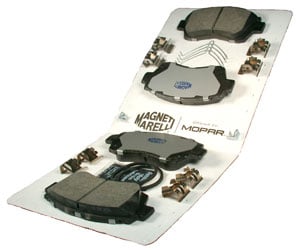 "
Magneti Marelli all-makes brake pad kits
sold by Mopar are the right choice for dealerships, independent repair shops and DYIers, the company said. They come complete with all the hardware for easier installation, less vehicle downtime and reduced possibility of premature wear-out. The high quality friction materials used allow for
ultra-quiet braking
and the elimination of brake dust. Available in semi-metallic and ceramic formulas, these brakes provide excellent stopping power and
superior braking performance
, Mopar said, adding this means less squeaky brakes and less customer complaints. "
Part Review from Tire Review 3/12/2014, the Tire Industry's #1 Source for News and Analysis.
Call Dave Smith for Magneti Marelli Brake Pad Kits and other parts. 
1-888-212-0241