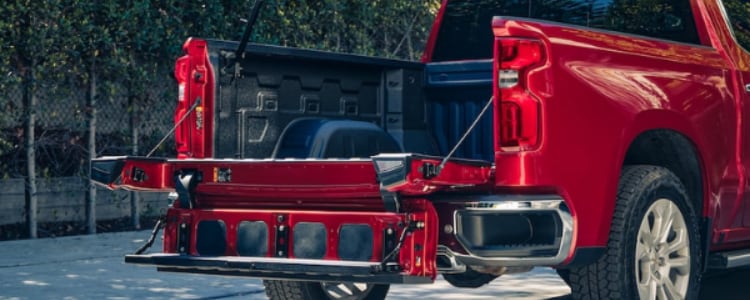 Truck Bed Turbo Liner for Sale in Kellogg, Idaho
When you need to protect your truck bed from damage, Turbo-Liner is your best solution in every way. Turbo-Liner provides more comprehensive protection from more possible types of damage than a traditional drop-in liner. Turbo-Liner also out-performs Polyurethane and brush-on liners in many ways, offering much higher quality, air and watertight protection. Turbo-Liner can also be used for more than just your truck bed, with applications for fenders, bumpers, and more. Contact our staff at Dave Smith Motors for more information.
Turbo Liner vs. Drop-in Liners
Turbo-Liner is applied to your truck bed, or any other surface receiving the treatment, by a simple, spray-on application. This ensures that the entire surface that you need to be protected is covered, without sacrificing any truck bed space. With a drop-in liner, water, dirt, and other potential corrodents can still get under the liner, damaging your truck bed without you being able to see it happening. That's not to mention that if it's not a perfectly fit drop-in liner, you'll lose out on truck bed space. Furthermore, Turbo-Liner can also offer protection against paint scratches and abrasions, and after the first application, requires almost no maintenance. Compare this with drop-in liners, which can get loose or require other maintenance and even need to be replaced over time. Drop-in liners can also create more noise due to looseness or air-pockets, which Turbo-Liner entirely avoids.  
Turbo Liner vs. Polyurethane Liners
You might find Polyurethane liners to be similar to Turbo-Liner in comparison. This is true insofar as they are both applied via a spray, but you'll find that the similarities taper off after this. One of the main issues with Polyurethane liners and brush-on liners is that they take much longer to dry as compared with Turbo-Liner. Because of this, the coating will be too thick in the grooves of your truck bed, and too thin on the ridges and other raised edges, which are exactly the spots that need the most protection. You'll also find that the texture of poly liners leaves much to be desired, along with its color, which will fade quickly. Turbo-Liner leaves behind a smooth texture and is available in many shades with ample UV protection, meaning they'll keep their color and consistency longer.
Turbo Liner Installation in Idaho
Your search for the best protection for your truck bed has met its end with Turbo-Liner. Here at Dave Smith Motors, we're proud to offer Turbo-Liner among our many other accessories and services, because we know that our customers deserve the best. Our knowledgeable sales team is standing by to assist you, either over the phone or in person at our dealership in Kellogg, Idaho. Contact us today about your options for a truck bed liner.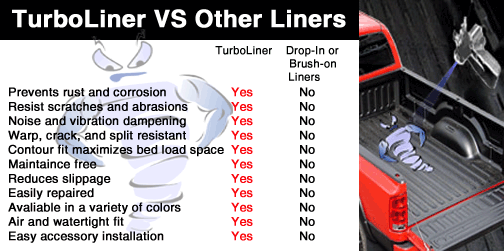 Call 1-800-635-8000  and let our Experts help 
Customize & Personalize your next vehicle.

Make an Inquiry
* Indicates a required field