Both the Chevy Traverse and the Ford Explorer are popular choices for mid-sized SUVs, and it may be tough to decide which one is best for you. Dave Smith Motors has laid out the details between the two vehicles for you, and with over 50 years in business, we remain committed to offering the highest level of customer satisfaction. Dave Smith Motors is the largest Jeep and Ram dealer internationally, and has been the Northwest's largest GM dealer for almost 30 years. We always give you your best deal up front, and you'll never have to deal with the hassle of back-and-forth negotiation. Our simplified pricing saves you money and offers you peace of mind. You can count on Dave Smith Motors to have the vehicle you want, since we have over 1,200 vehicles in our inventory at any given time! Want to trade in your vehicle? We will buy it from you no matter what. We have no obligations for you to make a purchase from us in order for us to buy your car, truck, or SUV! We offer a quick and easy appraisal, so even if you decide not to buy from us, we will still buy from you! Read ahead to see how the Chevy Traverse stacks up against the Ford Explorer, and get ready to browse our incredible inventory and schedule a test drive!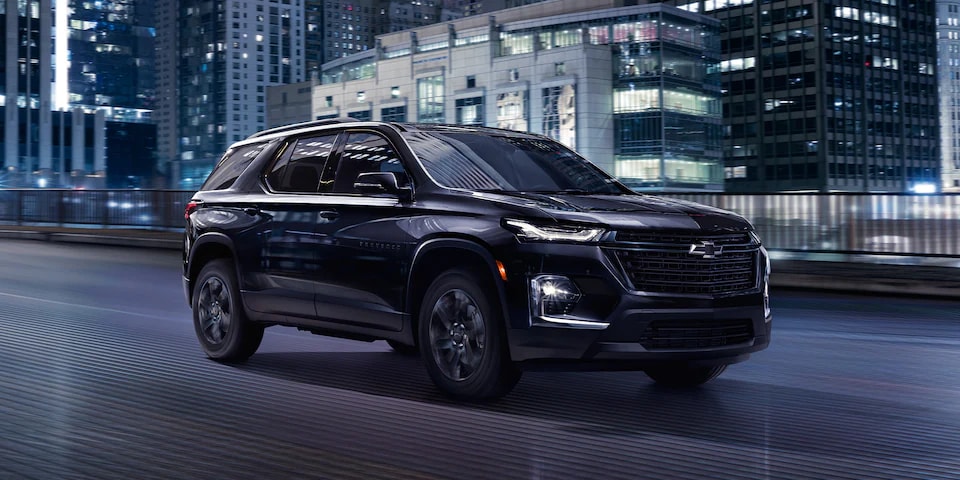 Comparing the Chevy Traverse and Ford Explorer
The Chevy Traverse offers the most incredible cargo space, perfect for groceries, supplies, and the luggage of frequent travelers and would-be nomads. Max cargo volume for the Traverse is a whopping 98.2 cubic feet, while the Ford Explorer maxes out at 87.8 cubic feet. The Traverse offers seating for up to eight passengers, while the Explorer stops short with the ability to seat up to seven. When it comes to safety features, Chevy works to have your back at all times and keep you safe with Chevy Safety Assist, coming standard on the Traverse. There is even specialized Teen Driver Technology that is standard on the Traverse, offering parents greater peace of mind when their teens are learning to drive. The Ford Explorer's safety features are more limited.

?
Shop Our Inventory at Dave Smith Motors - Chevy Traverse for Sale in Idaho
We carry quite the selection of Chevy Traverse models, both new and pre-owned, at Dave Smith Motors. As one of the largest dealerships for Chevrolet, Chrysler, Dodge, Jeep, and Ram in the country, you will be far from disappointed when you notice the vast array of vehicles to choose from on our lot. Your best deal is given to you up front, so you won't ever to deal with the headaches of haggling and constant back-and-forth negotiating. If you're looking for a Chevy Traverse for sale in Idaho, look no further than the extensive inventory at Dave Smith Motors! Contact us with any questions and to schedule a test drive