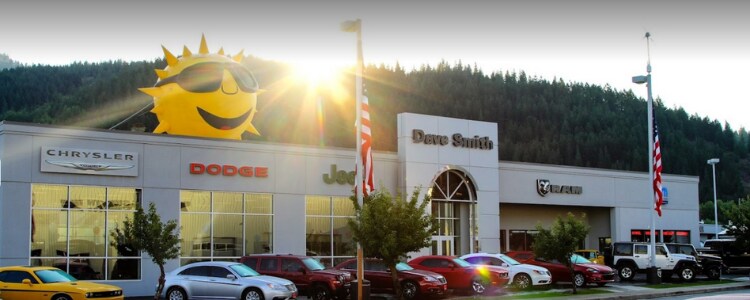 Hassle Free Buying* since 1965
About Us - Dave Smith Motors in Idaho
Established in 1965, Dave Smith Motors has been serving Idaho, Montana, Utah, and Northern California for over 50 years. Our new and used inventory for sale along with our expert service departments are truly unmatched. Because of this, we can now proudly say that we have spent more than 25 years as the largest GM dealer in the Northwestern United States, and the largest Jeep and Ram dealership - in the world. Browse our inventory of over 1,200 vehicles today, and you'll agree: Dave Smith Motors has the best selection of cars in Idaho and the Northwest.
Six Auto Brands Under One Roof in Idaho
Chrysler. Dodge. Jeep. Ram. Chevy. GMC. We offer more manufacturers at a single dealership than anyone else in our area. We know that sometimes it can be hard to compare all these distinct brands, so we've made it simple: by having such a wide variety of manufacturers in the same inventory, our customers are able to see the differences side-by-side. This is just another reason that you'll find yourself coming back to us again and again.
#1 Jeep RAM Dealer in the World
Whether you're looking for a new or used Jeep to suite your active lifestyle, or you need a durable truck to complete the toughest jobs, you will find the perfect model and trim level on our lot. As the #1 Jeep Ram Dealer in the world, we have the largest selection of new and used models for sale. Shop our inventory of Jeep and Ram models!
Shop Jeep + RAM
Largest GM Dealer in the Northwest
Chevy and GMC are known for their SUVs and trucks, and we have a ton of Chevy and GMC models for sale on our Coeur d'Alene lot. Whether it's a brand-new model from our showroom or a tried-and-true used Chevy or GMC, you will drive home loving your new vehicle. Shop our inventory of Chevy, and GMC models for sale!
Shop Chevy GMC
Expert Auto Service Center in Idaho
Our service technicians are the best in the area, and we pride ourselves on being one of the first and longest standing MOPAR service centers in the country. Because of our wide inventory of car parts from many different manufacturers, we're able to complete any maintenance project for your vehicle on a quick schedule. We also have exclusive aftermarket accessories, meaning we're also your best choice for that next DIY upgrade you were planning.
Service Center