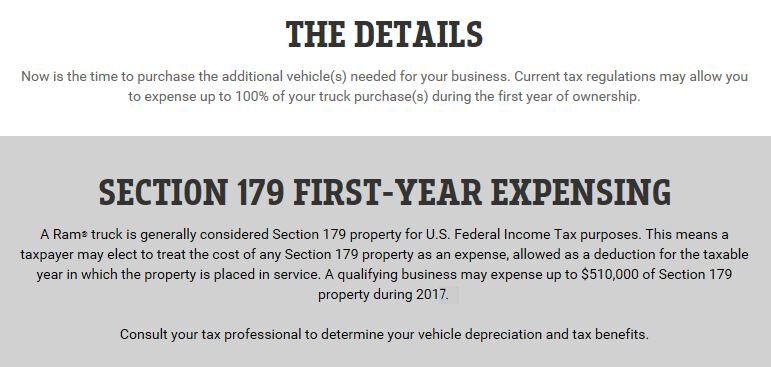 Section 179 is still affected by the "Protecting Americans from Tax Hikes Act of 2015" (
PATH Act
) that was signed into law on 12/18/2015. This bill expanded the Section 179 deduction limit to $510,000, where it will remain for all of 2017. For those interested, you may read the summary from the Ways and Means committee
here
.
Until further notice, Section 179 will be permanent at the $510,000 level. Businesses exceeding a total of $2 million of purchases in qualifying equipment have the Section 179 deduction phase-out dollar-for-dollar and completely eliminated above $2.5 million. Additionally, the Section 179 cap will be indexed to inflation in $10,000 increments in future years.
50% Bonus Depreciation will be extended through 2019. Businesses of all sizes will be able to depreciate 50 percent of the cost of equipment acquired and put in service during 2015, 2016 and 2017. Then bonus depreciation will phase down to 40 percent in 2018 and 30 percent in 2019.

Section 179 can provide you with significant tax relief for this 2017 tax year, but equipment and software must be financed and in place by midnight December 31, 2017. Use this 2017 Section 179 Calculator to see how much the Section 179 tax deduction can save your company.
2017 Chrysler, Dodge, Jeep Ram
Section 179 Expense Allowance

ProMaster City Passenger Can gets up to $11,560 in total deductions in year1. The listed property expensing restrictions provided in Section 280F do not apply to a vehicle that is considered to be a qualified nonpersonal use vehicle. A qualified nonpersonal use vehicle is by virtue of its nature or design not likely to be used more than a de minimis amount for personal purposes. For more information, see Income Tax Regulation Section 1.280F-6(c)(3)(iii), Income Tax Regulation Dection 1.274-5(k)(7), Publication 946 - How to Depreciate Property, and consult your tax advisor as to the proper tax treatment of all business vehicle purchases in 2017. The material presented in this document is for informational purposes only and is not offered as legal or tax advice. This work sheet is not intended to be used, nor should it be used, by any taxpayer as a defense against federal or state taxes or penalties. you are urged to seek the advice of your tax advisor for specific tax or legal questions.

---
---
---
Call 1-800-635-8000

and l

et our Experts help 

find the 

right vehicle for your business

.
---
*Be sure to consult a certified tax preparer to understand how a vehicle purchase will affect the taxes of your business.