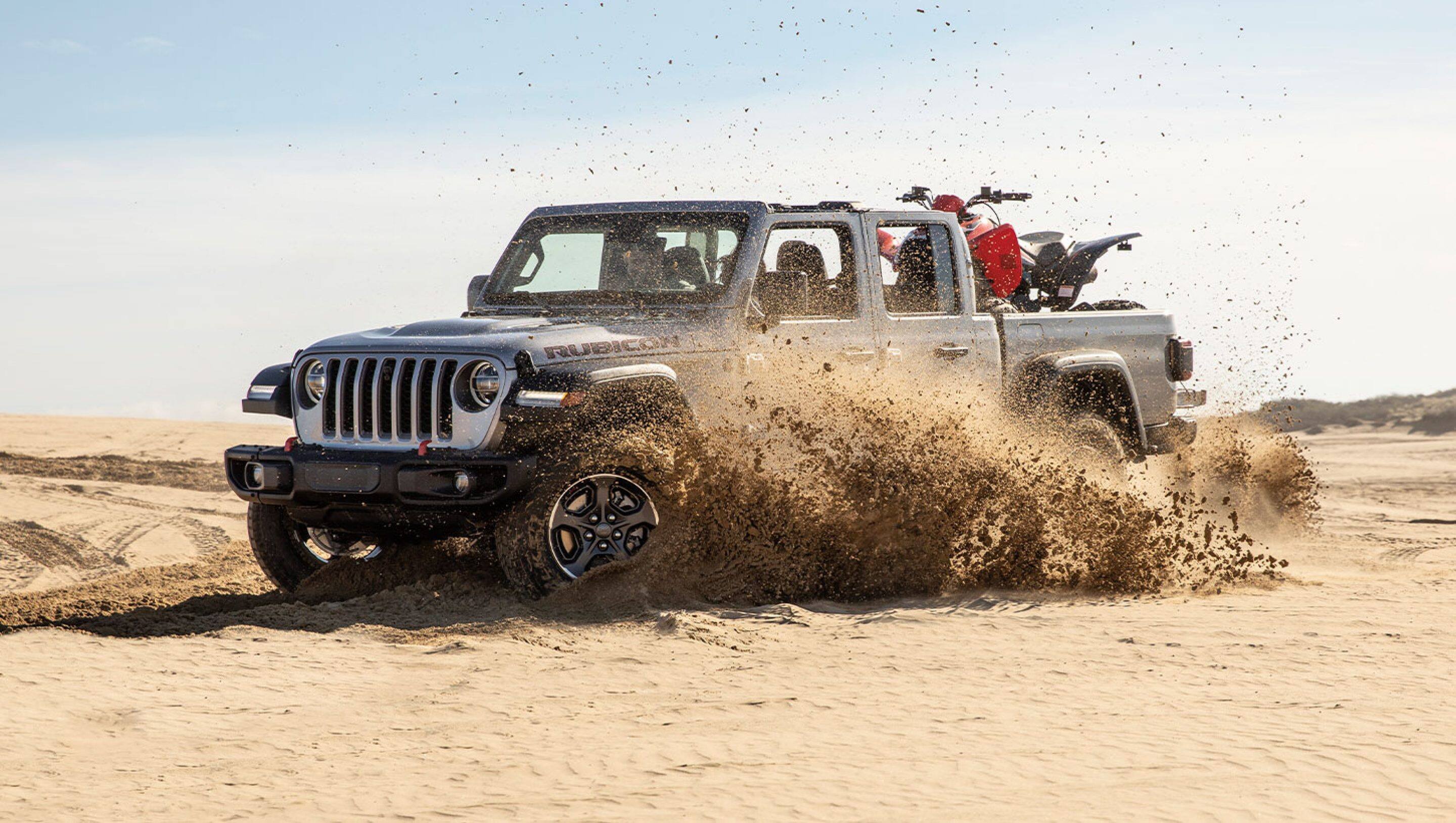 2021 EcoDiesel Gladiator Announced
Brought to you by Dave Smith Motors
Jeep introduced the world to the Gladiator in the 2020 model year. The brand new vehicle to the Jeep lineup is modeled after the four-door Jeep Wrangler and comes with a five-foot steel bed on the back, making it the perfect vehicle for both off-roading and carrying heavy loads. The Gladiator just gets even better in the 2021 model year with the introduction of a new 3.0-liter EcoDiesel engine to the powertrain lineup. The EcoDiesel engine provides the Gladiator with an immense amount of torque so you can crawl through the toughest off-road terrain with ease. To learn more about the new EcoDiesel engine and the Jeep Gladiator, you're going to want to keep reading down below.
What can you tell me about the EcoDiesel engine?
The all-new third-generation 3.0-liter EcoDiesel V6 engine is capable of cranking out 260 horsepower and 442 lb-ft of torque. The engine comes mated with engine stop-start technology so you can save on gas and travel further between fillups. The EcoDiesel engine uses a new TorqueFlite 8HP75 eight-speed automatic transmission that was designed for low RPM shifts and any duty you have for the Gladiator. Performance, 4x4 capability, and fuel economy are all improved with the help of more than 40 individual shift maps and optimized shift points. The EcoDiesel engine can be paired with any Gladiator model, including the Sport, Overland, and Rubicon.
What is new about the third-generation EcoDiesel engine?
The EcoDiesel engine delivers more horsepower and torque than previous models. Noise, vibration, and harshness or NVH levels have been minimized, while fuel economy has been increased. Several changes have been made to decreased NVH levels and improve fuel economy. Engine noise has been decreased and fuel economy increased by the compression ratio being optimized to 16.0:1 from 16.5:1. The lower part of the two-piece oil sump now uses a lightweight polymer/metal material that helps to decrease NVH levels further. The aluminum alloy pistons were completely redesigned, and the piston pin was offset by .03 millimeters from the centerline to decrease NVH levels further.
What else can you tell me about the Gladiator?
The Gladiator continues Jeep's legacy of superior off-road capability by coming with either the Command-Trac or Rock-Trac 4x4 systems, Tru-Lock Electric front- and rear-axle lockers, third-generation Dana 44 axles, 33-inch off-road tires, a segment-exclusive electronic sway-bar disconnect, and a Trac-Lok limited-slip differential. On the trails, you can plan on an approach angle of 43.6 degrees, a breakover angle of 20.3 degrees, a departure angle of 26 degrees, and a ground clearance of 11.1-inches. The Gladiator can be equipped with features such as an 8.4-inch touchscreen, a tonneau cover, leather upholstery, heated seats, a body-color hardtop, Fox shocks, and more.
Test drive a Jeep Gladiator in Kellogg, ID, today!
We can't wait for the new 2021 Jeep Gladiator powered by an EcoDiesel engine to arrive on our lot, but until it arrives, you can check out our current inventory of new Jeep Gladiator models
right here!
Whether you're looking for a desert racing Gladiator Mojave, a decked out Gladiator North Edition with heated seats, or a fully-loaded Gladiator Overland, we're sure to have the model that is perfect for you.