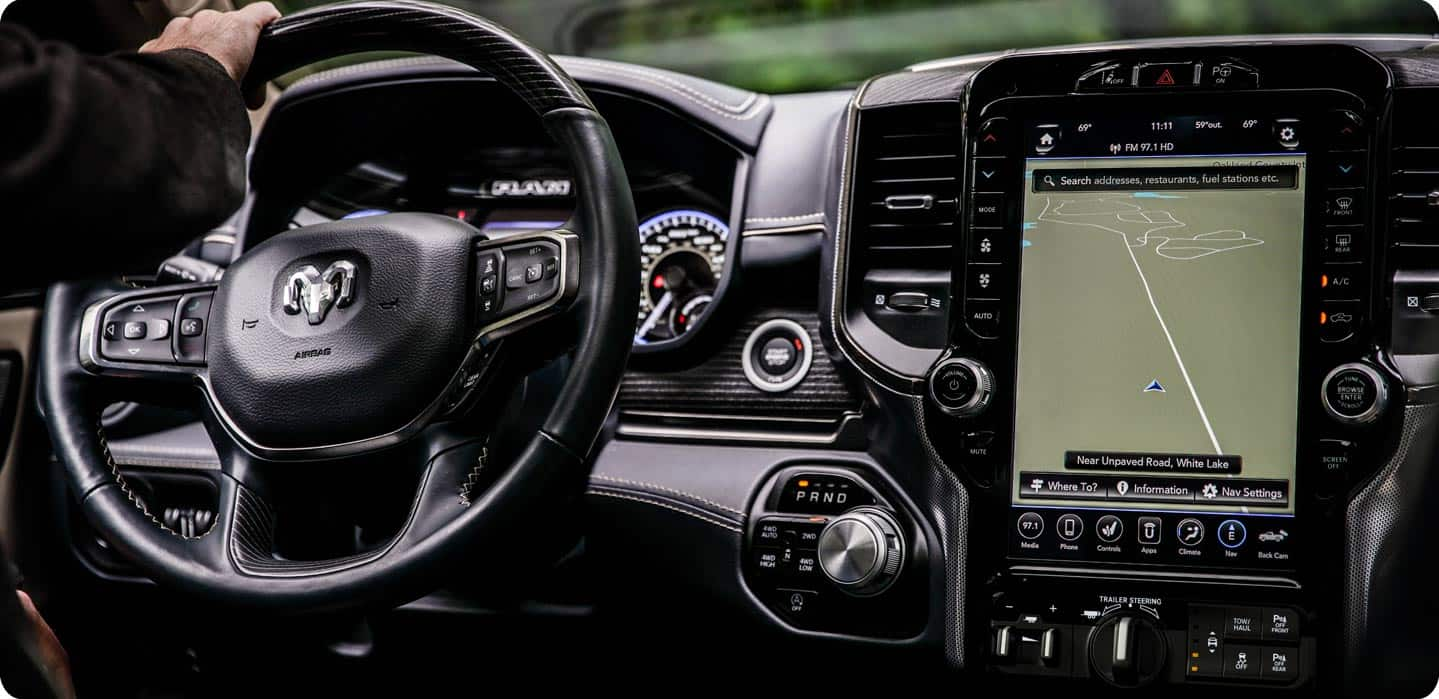 Ram Trucks Offer Uconnect 5
Meet the Tech-Focused Ram Trucks!
For years, Ram trucks have been recognized as tech-focused vehicles that stand above the competition with their well-equipped interiors. Ram sets itself apart from the crowd by prioritizing a comfortable and accommodating cab with tons of advanced features that make Ram trucks not just powerful, but truly enjoyable to drive. It's only natural that this award-winning truck would strive for new heights with each consecutive model year. The 2022 model year has big things in store for the whole Ram lineup, including pickup trucks and commercial vehicles alike. The new Uconnect 5 infotainment system will be joining the lineup as the centerpiece of the dashboard, with tons of capabilities from entertainment, to navigation, and more. To learn more about everything the Uconnect 5 system is bringing to Ram vehicles, continue reading down below!
Customize Your Uconnect 5
Part of what makes the Uconnect 5 such a natural fit for Ram vehicles is its intuitive and simple interface. The Uconnect 5 will maintain the stunning 12-inch touchscreen display found on previous Ram models with a full-color picture and easy-to-use controls. It also features customizable gauge clusters, so you can find all of your most-used functions all in one place. Plus, each Uconnect 5 system offers multiple user profiles, which include physical settings like temperature control and seat adjustment, so each driver can have all their preferences saved, even in a shared vehicle.
Wireless Apple CarPlay and Android Auto
The Uconnect 5 sets itself apart from previous versions of the system by offering faster processing speeds and more memory than ever before. Plus, the Uconnect 5 will also provide standard wireless connectivity for Apple CarPlay and Android Auto. That means that integrating your smartphone is easier than ever, and it will even remember your device so that pairing with the system is a breeze. You can access all your favorite music from your phone without having to worry about which cable to use! The system even provides a Wi-Fi hotspot so you can be sure to have a strong connection when accessing your music apps.
Amazon Alexa Voice Commands
One of the new features of the Uconnect 5 is the Amazon Home to Car technology. This system allows you to access the same Amazon Alexa assistant you've used at home, now from the road. Use simple voice commands to find music, setup navigation, or manage your to-do list, totally hands-free. Amazon Alexa uses voice recognition to complete any tasks you may need, allowing you to keep your attention on the road ahead and minimize distractions. Plus, this function is not limited to the driver. All passengers within range of the audio system will be able to make voice commands when needed, taking the responsibility off of the driver.
Mobile App
All this technology offered by the Uconnect 5 isn't just limited to your vehicle. You can also access certain functions on your smartphone using the Uconnect mobile app. The app has the ability to transform your phone into a digital key, so you can lock and unlock your vehicle, and start it remotely. The app can also provide alerts about the vehicle, with a Stolen Vehicle Assistance system that will help you find its location, and Valet Alerts that will notify you when someone else drives the vehicle. There are also assistance programs that will help you contact Uconnect customer care, or emergency services if the vehicle detects an accident.
Visit Us Here at Dave Smith Motors!
If you're as excited as we are about these high-tech updates to Ram vehicles across the board, you might be wondering how you can learn more! You can check out all our current inventory right here on our website by clicking on the New Inventory tab. There, you'll be able to see what we have in stock, and find additional details about each vehicle. You can also head over to our online research center to find additional information and resources like vehicle comparisons, full reviews, and more. Then, come and visit us in person here in Kellogg, Idaho to see our selection in person, and schedule a test drive of your favorite models! From all of us here at Dave Smith Motors, we look forward to hearing from you soon!