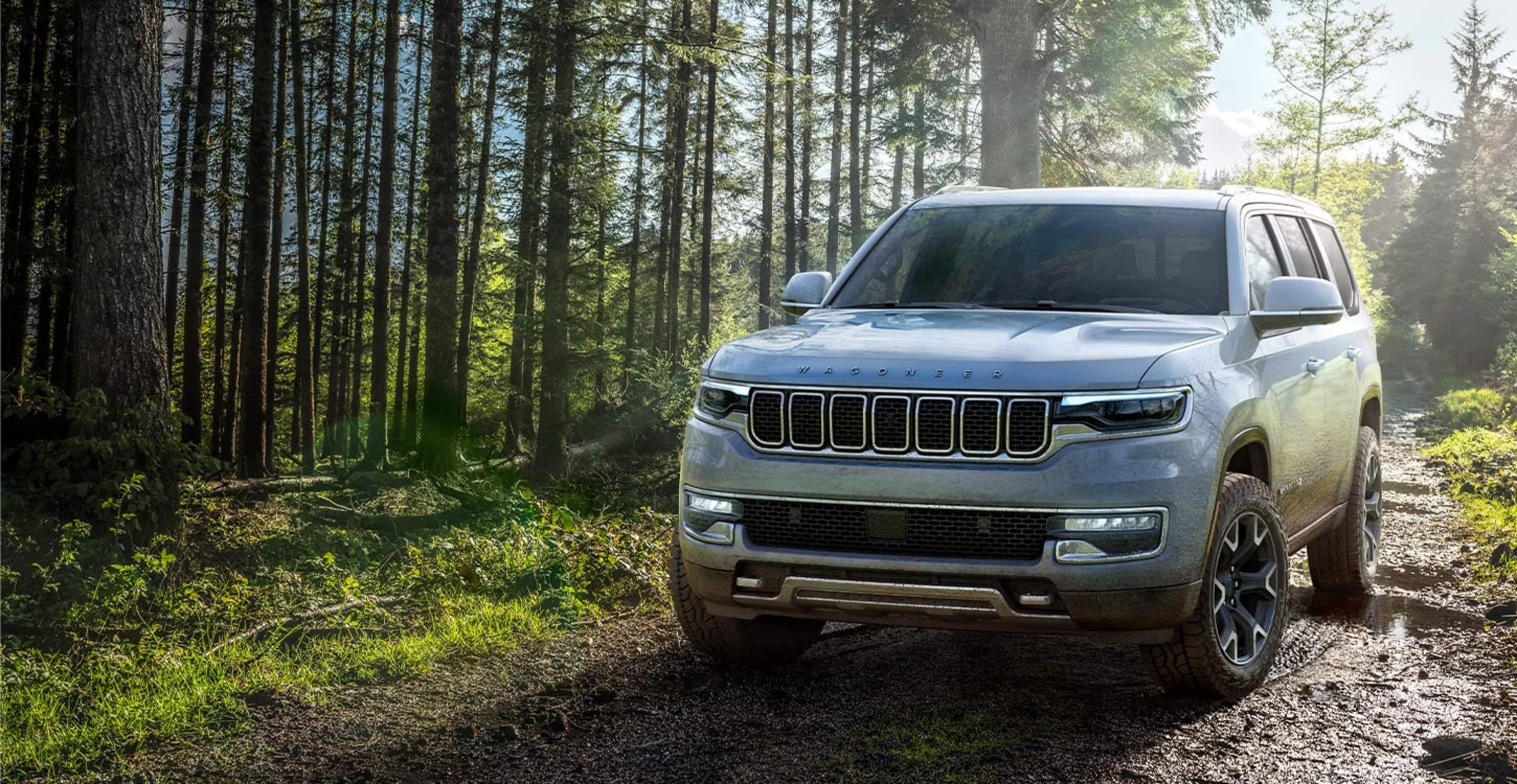 2022 Wagoneer Off-Road Capability Kellogg ID
Brought to you by Dave Smith Motors Chrysler Dodge Jeep Ram
Dave Smith Chrysler Dodge Jeep Ram is excited to announce the lineup of the 2022 Wagoneer. This phenomenal SUV will offer buyers three unique 4x4 systems: Quadra-Trac I, Quadra-Trac II, and Quadra-Drive II. There will also be an optional Quadra-Lift air suspension and Selec-Terrain traction management system, providing this superior SUV the legendary capability it is known for; if you would like to learn more, keep reading!
Will the 2022 Wagoneer offer the Quadra-Trac system?
The Wagoneer was the first to debut the original Quadra-Trac system in 1972. The Quadra-Trac I system will be standard across all Wagoneer's. This system offers buyers a full-time four-wheel drive without the inconvenience of switches or levers. The Quadra-Trac I provides a smooth, lightweight single-speed transfer case that will be efficient for improved traction and enhances fuel economy by converting torque from the wheel slipping to the wheel with the most grip. The optional Quadra-Trac II system will have a two-speed transfer case. This Quadra-Trac II system takes data from various sensors to determine which tire is slipping at the earliest possible moment and takes corrective action. It also uses your throttle habits to anticipate quick movement from a stop and maximizes traction before tire slippage occurs. When the Quadra-Trac II system detected a slipping wheel, 100% of available torque will be routed to the wheel that has the most traction. The next off-road system is the Quadra-Drive II, with a rear Electronic Limited-slip Differential (ELSD). This setup offers all the same capabilities as previously matched. However, this system instantly detects tire slip and smoothly distributes engine torque to tires with traction. If the Wagoneer anticipates low traction, it can adjust,  proactively limiting or eliminate slip.
What is Jeep's Selec-Terrain system?
Jeep has a history of excellent off-road capabilities. The Selec-terrain system is one of the reasons for that. The Selec-Terrain system will come standard with the Quadra-Trac II system and Quadra-Drive II system. When your 2022 Wagoneer is equipped with the class-leading Selec-Terrain traction control system, drivers will have the option to choose from an on-road or off-road setting for optimum 4x4 performance. This unique system will electronically coordinate up to 12 different powertrains, braking, 4x4 torque split, and suspension systems, including throttle control, transmission shift, transfer case, Hill-descent Control, and Selec-Speed Control. Selec-Terrain system will provide drivers with five different settings to choose from Auto, Sport, Rock, Snow, and Sand/Mud. The Auto setting will automatically adapt to any on- or off-road driving situation. When you switch to Sport mode, the system will be engaged with the push of a button and provides enhanced on-road "fun-to-drive" capability. When you engage Rock mode, the Quadra-Lift air suspension system will raise the Wagoneer to its maximum ground clearance height of 10 inches, while the transfer case, differentials, and throttle coordinate to provide low-speed control. Snow mode adjusts traction for ultimate performance over snow-covered roads. When your Wagoneer is in Sand/Mud mode, traction control and Quadra-Lift operate with a sensitive response to wheel spin and torque tuned for optimal performance in sand or mud. A mechanical limited-slip differential is standard on all 2022 Wagoneer's, and a rear electronic limited-slip differential is available for enhanced traction in any condition.
How does Jeep's Quadra-Lift air suspension system work?
Drivers of the all-new 2022 Wagoneer will gain the outstanding capability of the Quadra-Lift air suspension system. This air suspension system will add up to 3.6 inches of lift to the Wagoneer by supporting the four-corners with air springs that provide an air-cushioned, premium ride. The Quadra-Lift system automatically adjusts for a skillful ride experience. However, you can control manually with console controls. The Quadra-Lift air suspension system provides drivers with five height settings Normal Ride Height, Off-road 1, Off-road 2, Park Mode, Aero mode, and Sport. When your Wagoneer is at Normal Ride Height, also known as NRH, it has 8 inches of ground clearance. This mode offers improved fuel economy and improved aerodynamics during on-road driving. When placed into Off-road 1, the Wagoneer will lift an additional inch from NRH, bringing your total ground clearance up to 9-inches. Off-road two gains you two more inches from NRH, totaling 10 inches of ground clearance. When the vehicle is in Park Mode, the Wagoneer will lower 1.6 inches from NRH, allowing for easy entry or exit. Both  Normal Ride Height and Park mode are driver-selectable, allowing them to have complete control over vehicle ride height. Aero Mode lowers the vehicle 0.6 inches from NRH. This mode is controlled by vehicle speed and adjusts for optimal performance and fuel economy. The car will also lower to Aero Mode when in Sport Mode.
Dave Smith Chrysler Dodge Jeep Ram is your 2022 Wagoneer information center!
If you would like to learn more about the 2022 Wagoneer, Dave Smith Chrysler Dodge Jeep Ram is the place for you. Our knowledgeable sales team is here to help you in any way possible. You can always see our entire inventory on our Website.