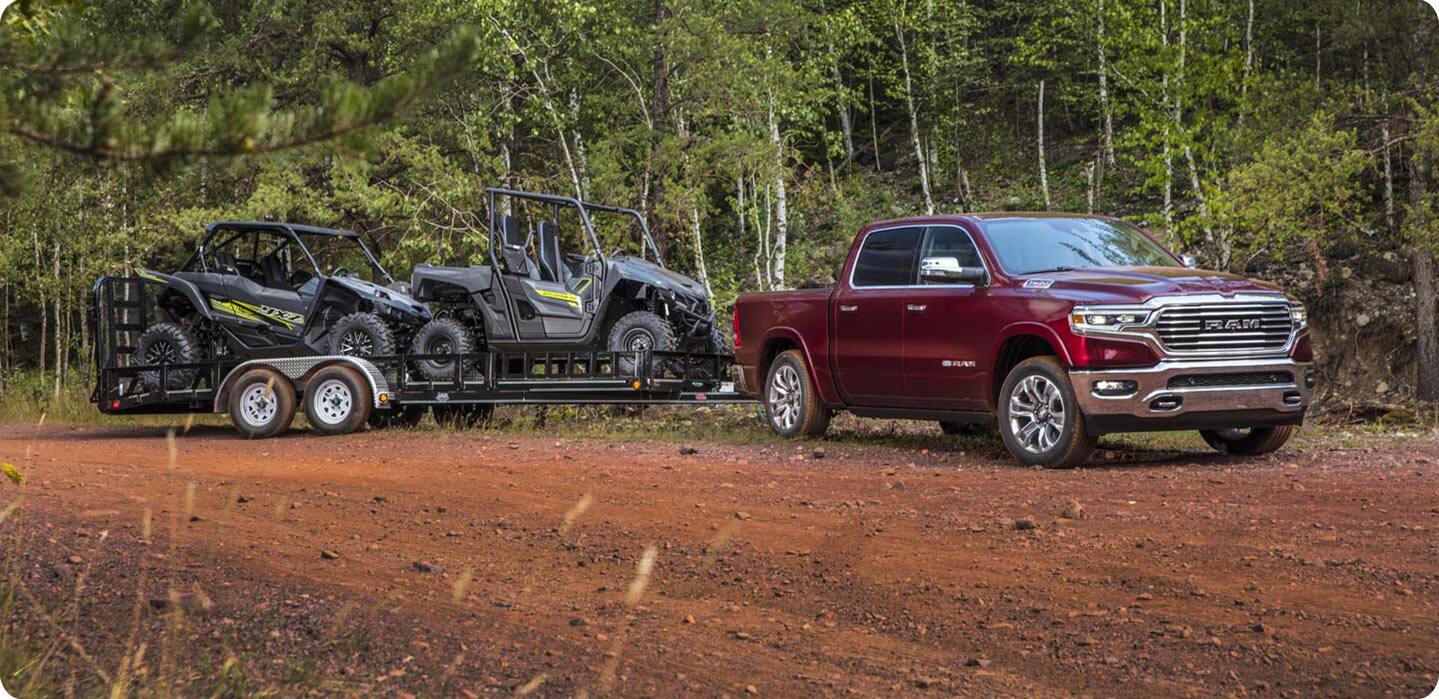 How Much Truck do you Need?
So, you've decided it's time for a truck to start hauling. Maybe you have a boat, some four-wheelers, or maybe a camper. Whatever your case may be, Ram offers a truck to fit your needs! But before you choose a truck, you must figure out what your towing needs are. Here at Dave Smith Motors, we want our customers to be as well-educated as possible so they can feel confident when choosing their next vehicle. With that being said, we'd like to offer you a few tips on choosing the best Ram truck to get you and all your cargo where you need to go. Continue reading below to learn more!
Towing terminology
There are a few terms that should be understood before deciding on your next truck. The first is towing capacity, which is how much the vehicle and trailer can tow. Determining the towing capacity is one of the first steps to finding the right truck. Next is the Gross Vehicle Weight Rating. This is how much the vehicle weighs when it is fully loaded, including passengers and cargo. Similarly, the Gross Trailer Weight Rating is the total weight capacity of the trailer plus the maximum cargo it can hold. The Gross Combined Weight Rating is both the vehicle and trailer weight ratings combined. The tongue weight refers to how much weight a loaded trailer puts on the vehicle's hitch. Lastly, it's important to note that payload is how much weight the truck bed can take on, and towing refers to how much weight the truck can tow behind it.
Different types of trucks
There are two different kinds of trucks with different capabilities, light-duty and heavy-duty. An example of a light-duty truck is the Ram 1500. When equipped with the 5.7L V8 engine, the 1500 can haul up to 12,750 pounds. All Ram 1500 variants are perfect for hauling boats, campers, ATVs, or other recreational vehicles. The first Ram heavy-duty, the 2500, is perfect for heavier loads like sailboats, horse trailers, RVs, and trailers connected with gooseneck or fifth wheel hitches. The Ram 3500 has even more capability and can haul things like larger horse trailers, flatbeds, and more. Finally, the Ram Chassis Cab is made for towing and can be customized with upfits like dump beds, utility bodies, flatbeds, and tow bodies.
What are some features that affect towing capacity?
There are a few features that play a role in how much a truck can tow. First and foremost is the engine and transmission. For example, trucks with higher horsepower and torque will be rated to tow more weight than lower-powered trucks. Next are the different types of trailer hitch receivers. For instance, Class 1 hitch receivers have a towing capacity of about 2,000 pounds. Meanwhile, a Class 5 receiver can haul up to 23,000 pounds. If you need even more hauling power, you'll want to go for a gooseneck or fifth-wheel hitch. Next, it's important to consider cab and bed length. The smaller the cab and bed, the lower the vehicle weight is, providing a greater towing capacity. However, if you need to fit more passengers, a larger cab is ideal. If you're hauling with a fifth-wheel or gooseneck, a longer truck bed is recommended to provide more space for turning. The axle ratio is the balance between towing power, which comes from a high axle ratio, and efficiency, which comes from a low axle ratio. Finding the right balance will help in your towing endeavors. Ram offers various axle ratios to suit your needs. Last is the wheel drive system. 4x2 means two wheels are driven, offering greater towing capacity, while 4x4 offers greater control but more vehicle weight.
Get a Ram truck near Kellogg, Idaho
No matter what your towing needs are, Ram offers a truck to get the job done. From the light-duty 1500 to the ready-for-anything heavy-duty 3500, you'll find the towing capacity you need with a Ram truck. So, are you ready to get into the Ram truck you need? Then come on down to Dave Smith Motors, where a knowledgeable sales team member will be happy to help you find the perfect Ram truck for you. You can also start your search right now by checking out our new Ram truck inventory right here on our website, where you can also read reviews, apply for financing, and value your trade. We look forward to earning your business!