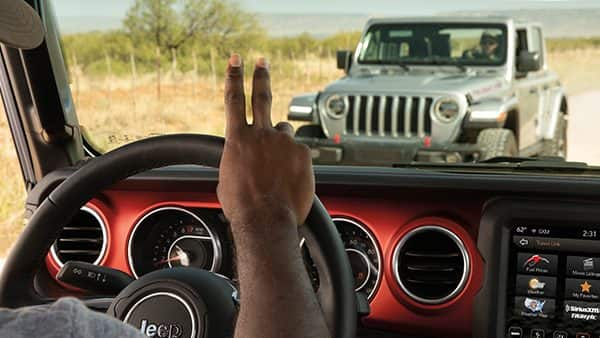 Jeep Wave Program Kellogg, ID
Brought to you by Dave Smith Motors
Jeep is the authority of off-road excellence, and now they are taking it up a notch with worry-free maintenance with the Jeep Wave Program! The Jeep Wave Program is standard on all 2021 Jeep vehicles. Routine maintenance is essential to the life of your Jeep, and with the Jeep Wave program and the factory-certified technicians a Dave Smith Motors, staying on top of them couldn't be easier.
What is the Jeep Wave Program?
The Jeep Wave Program is a customer care plan. When purchasing a Jeep that is 2021 model year or newer owners will be automatically enrolled in the program. This customer care plan covers your Jeep's regular maintenance items, such as tire rotations and oil changes. The Jeep Wave Program is a customer care plan program that lasts for the first 36 months from the date of ownership. The Jeep Wave program offers no additional cost, worry-free maintenance, and a dedicated 24/7 support line.

What are the benefits of the Jeep Wave Program?
All Jeep Wave members receive their first three oil changes and tire rotations free of charge. Members also receive the benefits of a desiccated 24/7 owner support line. Members can use this support line can be used to schedule service appointments or ask a question. Members also have access to the Live Chat features through your account page. Some other outstanding benefits of the program are same-day no-charge rental for all routine maintenance appointments, as well as trip interruption coverage up to $1,000 per occurrence, and 24/7 roadside assistance for the duration of the 5-Year/60,000-Mile Powertrain Limited Warranty Period. Jeep Wave members receive VIP treatment at all Jeep brand events across the country and access VIP exclusive events.

Who is eligible for the Jeep Wave Program?
If you purchase a 2021 or newer Jeep, you are automatically enrolled in the Jeep Wave program. If you are the owner of a Jeep older than 2021, you may have entered your Jeep as only select jeep vehicles were eligible for the plan. 6 Jeep vehicles between 2016-2021 were automatically enrolled, Wrangler and Gladiator, the Grand Cherokee Overland, Summit, SRT, Trailhawk, Trackhawk, and High Altitude were enrolled, and the Trailhawk models on the Compass, Cherokee, and Renegade were enrolled in the program. Jeep Wave members can renew their membership, as well as owners of 2015 Jeep models or newer. You can join the Jeep Wave program. 

Dave Smith Motors is a certified Jeep Wave service center and proud of it!
Dave Smith Motors is proud to be a certified Jeep Wave service center. Our friendly factory-certified technicians specialize in all things Jeep. Jeep Wave's online service scheduler allows members to schedule their appointment online at their convenience. When your Jeep arrives, the service team will work tirelessly to get our customers back on the road, so they can get back to what matters most. If you have any questions about the Jeep Wave program, feel.