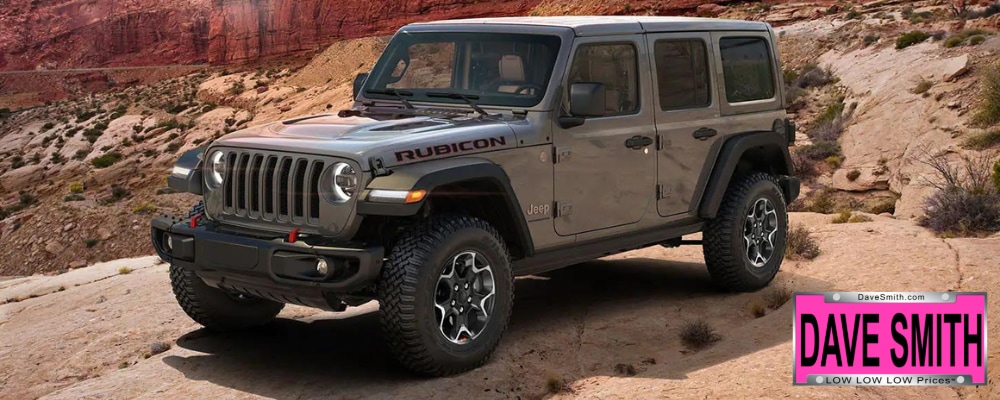 Calling all Jeep enthusiasts near and far! Dave Smith Motors is the largest Jeep dealership in the United States and is excited to serve you in all your Jeep needs. Stop by or browse the website to see all we have to offer and make us your one stop shop.
Largest Volume Jeep Dealer in the U.S.
When it comes to options, Dave Smith Motors has no shortage. At any given time, we have over 1,200 vehicles in our inventory to choose from. Our reach is also wide, so even if we don't have what you need, we can find it. Our impressive inventory extends to our Jeep collection as well. To ensure our patrons have access to high-quality vehicles, we keep a well-stocked inventory to meet your needs. Choose from classic models like the Jeep Wrangler or a modern SUV like the Grand Cherokee L. From off-road trails to stretches of highway, your Jeep will be with you no matter where the road leads. Browse our lineup on the website to start your journey. 
Largest Selection of Jeep Inventory in the U.S.
Dave Smith Motors takes pride in maintaining the largest Jeep inventory in the country. We carry an incredibly impressive array of Jeeps from the Cherokee to the Renegade and everything in between. Choose from a wide variety of colors, trims, and amenities to customize your off-road adventures and cross-country road trips. We guarantee to find your dream Jeep. If you're having trouble sifting through all your options, use the simple filter system to help you narrow your selection. Choose the model, trim, body style, exterior color, and packages to expedite the search. If you have questions about features or benefits of any model or trim, feel free to contact our sales experts. They'll be happy to help you every step of the way.
New and Used Jeeps at Dave Smith Motors
As a new and used Jeep dealer, we make sure there's an option to fit your lifestyle and budget. Whether you want a brand-new vehicle or a high-quality pre-owned model, we've got plenty of options to choose from. Our inventory is constantly updated to ensure we have the latest and greatest options available at the right price. There's a Jeep for everyone.
Schedule a Test Drive with Dave Smith Motors
When you're ready to select the Jeep of your dreams, schedule a test drive. It's simple. Just let us know when you're available and we'll get you behind the wheel. You can give us a call, stop into the dealership, or schedule on our website. Test driving your potential vehicle is the best way to really know if it's right for you. You get an accurate feel for its handling, braking, and accelerating. Plus, there's merit to experiencing how you feel in the driver's seat. Schedule your test drive today!
Contact Us