Do you need a car or SUV to tow behind your motorhome? If you don't like navigating your motorhome through the tourist attractions, sightseeing spots, and parking lots you've probably considered dinghy towing. 
Many people wouldn't even think of traveling in their motorhome without a dinghy. A Dinghy is a vehicle that is towed behind a motorhome. It is also referred to as flat towing, four-down towing, and recreational towing. 
At Dave Smith Motors we offer several vehicles that are suitable for dinghy towing. Vehicles that are generally acceptable for dinghy towing are FWD with manual transmissions and 4WD with manual transfer cases. Some FWD vehicles with automatic transmissions are also flat-towable. 
Before purchasing a vehicle for dinghy towing ask to read the owner's manual to confirm that the vehicle is approved by the manufacturer for flat towing. Before finalizing the purchase confirm that the vehicle can be towed without causing damage to the drivetrain or otherwise voiding the manufacturer's warranty. 
---
Call 1-800-635-8000 and let our Experts help 
you find a vehicle to tow behind your motorhome.
---
1-800-635-8000
Let our experts help you find a vehicle to tow behind your motorhome.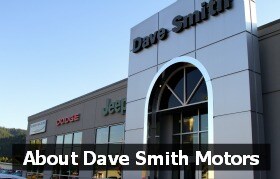 Do you need your vehicle set up to tow behind your motorhome? Are you looking for self-aligning bars, supplemental braking systems, hitch receivers, tow bars, base plates, safety chains or other towing needs?

Let our Accessories Experts help you get your motorhome and dinghy ready to tow. 
---