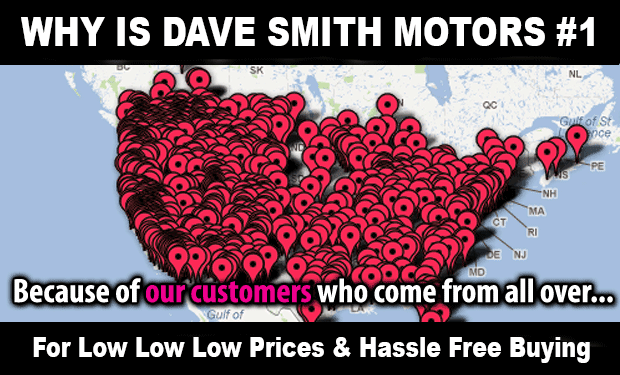 Why Buy From Dave Smith Motors?


Hassle Free Buying  Get your best deal upfront without the hassle of negotiating


Ranked World's Largest Chrysler Dodge Jeep Ram Dealer


Huge selection of Chrysler, Dodge, Jeep and Ram vehicles


Specialty Products Dave Smith Motors has one of the first Chrysler Mopar Shops and offers a wide variety of aftermarket items exclusive to Dave Smith Motors and Dave Smith Motorsport Inc., including Turbo Liner and Pro Performance


One of the Highest Ranking Dealerships in Customer Satisfaction


Selection and Availability At any given time Dave Smith Motors has over 2,000 vehicles in inventory to choose from.


Call Our Sales Experts Today 
1-800-635-8000
Hassle Free Buying.
1-800-635-0000
Hear What Our Customers Have to Say
Second Happy Purchase
EXCELLENT! I WOULD DO IT ALL OVER AGAIN! THIS IS MY SECOND HAPPY VEHICLE PURCHASE FROM DAVE SMITH MOTORS DURING THE PAST 15 YEARS!! THE FIRST ONE WAS A JEEP GRAND CHEROKEE.
T.C. from Spokane, Washington
Worth the Trip to Idaho
Good purchase experience. Very easy and worth the trip to Idaho.
B.H. from Bend, Oregon 
Simple
Simple. Described what I wanted, told me there was one being delivered soon, gave me a price, and I bought it.
R.M. from Grandview, Washington 



Never Had Such A Positive Experience
It was fantastic.  Joe was great to help us in every way.  Before the arrival of our Chevrolet Colorado he kept in close contact with us by phone and email.  All of the other employees at Dave Smith Motors that we dealt with were also great.  In all the vehicles that my wife and I have purchased over the years we have never had such a positive experience as this!

E.R. from Tacoma, Washington  
"

Super Awesome!
"
Super Awesome!  Had a van waiting for me at the Spokane airport.  In and out and I was on my way. I will recommend to anyone!
C.D. from Meridian, Idaho